Quick update on what's happening
Well hello blog, haven't seen you in a while! I'm really sorry about that. Once again, this is mostly due to my being busy with getting our building plans to move on. Argh… I think I need to get into a habit of making smaller but much more frequent updates. I've had so much to write for MONTHS now! From today, I shall try to write at least a little something each Wednesday. Currently there's so much happening that contentwise this should be no problem at all.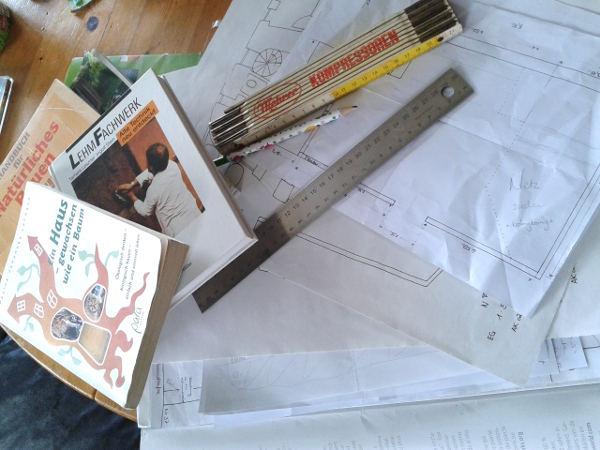 What's going on?
I drew a workable plan for the outdoor kitchen, and we're working on the permit application for it.
I'm still refining the floor plans, I'm about two versions onwards from the ones last posted.
I'm also working on some construction drawings: an elevation plan and two vertical sections of the house, one going west to east and one south to north.
I have contacted my bank regarding a loan! (This is so uuuuuuhhhhh for me…) They have been quite helpful and interested in the project so far, but it is a special case, so this needs some work. Namely, a conclusive, realistic statement of how much money we need to borrow. So I've made two very detailed spreadsheets listing everything I expect to need to pay for, and then some, and it adds up to a quite a bit more than I would have guessed and I'm already SO GLAD I'M DOING THIS! But it takes ages and is also fairly difficult to research everything in detail, like how many screws we need and what kind, and how much to expect to pay for the electrician, etc. etc.
(I should add that my bank is the Ethikbank ("ethics bank"), they place great emphasis on transparent business practices and do not support unsustainable or unethical businesses, or even countries! I'm very happy with them generally; however, they are quite a small bank and do not have an English translation of their website.)
Tying in to that, I'm trying to reach a decision on some relevant major topics, like how to construct the roof and what to put on it. I need to talk with the architect AND the structural engineer very soon, and preferably also the energy consultant (required in Germany).
Also tying in to that, I've spent a lot of time those last three weeks or so checking out material options, for example I found an alternative to using expanded clay balls as insulation in the stem wall: foamed glass rubble! Seems to be a LOT cheaper, and there's a source quite close to where I live.
I've also read a TON of books. Mostly from the library, but I also got three really good ones from a friend who built a light-clay timber frame house not far from here, many years ago. I often get a load of books from the library and then scan them for useful bits of information, so I don't really read everything I get, but fairly often I get some real gems that didn't look it. For example I found this lovely book on creating an energetically uplifting garden refuge, written by someone who's been practicing geomancy for years, and much of the principles outlined apply to a house just the same.
I've made a couple of contacts and talked to wonderful people with helpful ideas, like a friend who is a master carpenter by now.
What's NOT happening
I've decided to do absolutely no gardening this year, meaning I haven't done any planting so far and probably won't. Maybe sow some bee-friendly flowers, but nothing that requires continued attention. I'm a little miffed about this, but it's totally necessary because I have SO many plans for this year already!
My plans for the year
I'll go and have a detailed look at a really interesting eco house (Ökohaus Achberg) which I've read a book about, in two weeks or so. Ah bugger – I just learnt that the house was sold a year ago, and TWO places on the internet haven't been updated yet. *such a pityyyy*
As soon as this very indecisive weather has made up its mind to provide us with some reliable, warm sunshine, I'll fire up the pizza oven I built last year (which is still missing a blog entry). End of May or something.
I've signed up for a two day tadelakt course on June 3-4, in Frankfurt. (YEEEEEEESSS!
I've also signed up for a one day scything workshop the weekend after.
I intend to build a nice model of the house, once we've decided on all the major question marks, and maybe make it on a scale of 1:20 even. The last one was helpful in some ways but mostly useless, not least since we've changed everything around again since then.
And of course, I'm hoping that all the Gods and Goddesses smile on me so we get the permit for the outdoor kitchen in time for summer! (Late summer, probably, but that would be okay.) This'll be so good, I can hardly wait! It'll be a proof of concept for SO many things, as well. Really looking forward to that. With a couple of helping hands, it should be doable in three weeks or so.
Oh yeah, we also need to apply for a building permit for the house fairly soon. It might take as much as a year to get it…
So it'll be a very busy year indeed! But I really WILL try from now on to keep things well documented here, I promise.